Portfolio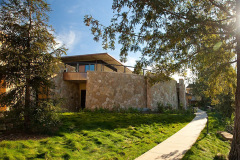 WESTMONT COLLEGE -


Beginning 20 years ago as a collaboration with Randy Jones, Campus Architect, Susan Van Atta and Carl Johnson of JJR, Landscape Architects, VAI/Van Atta Associates helped prepare an overall campus landscape plan. Since that time the improved landscape includes restoring the historic gardens below the original estate house, removing invasive vegetation, bringing overgrown plantings back to an appropriate scale, adding water features, and conserving venerable oak trees.


The guiding aim has been to create outdoor spaces that foster a sense of campus community. Many projects have been completed throughout the campus, with the work continuing today with the construction of the Westmont Institute for Global Learning and Leadership.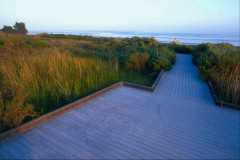 UCSB LAGOON PARK -


This park is another example of how we strive to achieve ecologically intelligent design to balance aesthetics, function, and the environment.


A restored wetland habitat, an inviting spot for students, a system that filters and cleans runoff—all of these things have been incorporated into a site that was until recently a gravel parking lot. Before meeting with us, the University feared that a required habitat buffer would result in the loss of use of acres of beautiful coastal bluff property.


We convinced them to regard it as an opportunity to create a park as a wilderness interface to a new cluster of student resident halls and a potential research laboratory for habitat restoration. This is no habitat cordoned off by fencing. Instead, trails, ocean overlooks, picnic tables as study areas, a surf shower, stairs and ramp down to the beach, all invite students to enjoy this park, while restored vernal pools marshes and meadows—with larger vegetation as barriers to sensitive areas—are equally welcoming to native plants and wildlife.


A boardwalk right through the middle of the biggest vernal pool gives students a firsthand look at this thriving ecosystem. The park is designed to clean runoff water too, taking the site drainage and removing pollutants before it enters the adjacent lagoon. In the end, it's a place that is as great for people as it is restorative to the environment.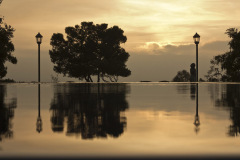 UNIVERSITY OF SAN DIEGO -


"A drop in the ocean partakes of the greatness of its parent, although it is unconscious of it. But it is dried up as soon as it enters upon an existence independent of the ocean. We do not exaggerate when we say that life is a mere bubble." -Gandhi


For an institution committed to finding the commonalities between all people, we conceived a plan that would embody the broadest themes possible in landscape architecture, linking us all. Gardens of the sun, moon, and stars complete the landscape, continuing the message of universality.